April 2013:
started frame-side engine mounts. Cut Mustang brackets off rear end. Started transmission tunnel.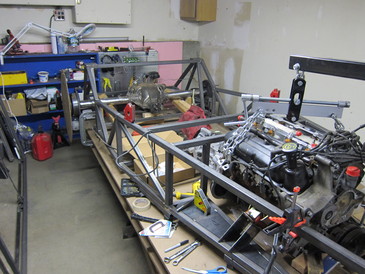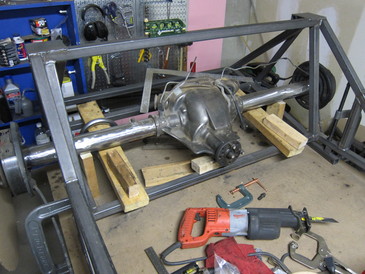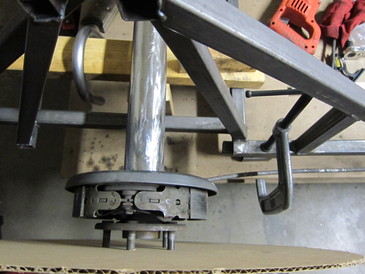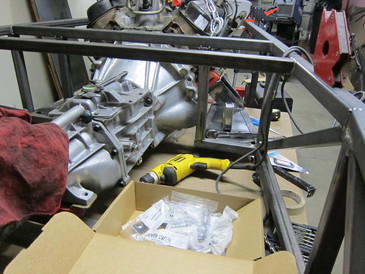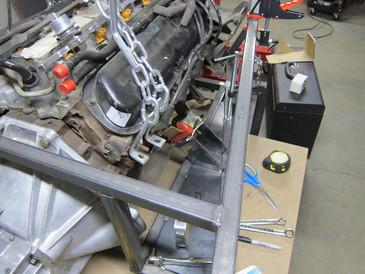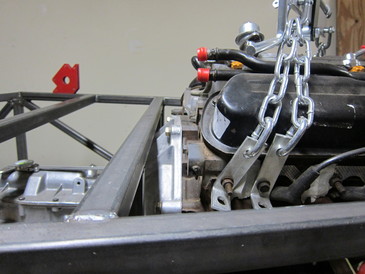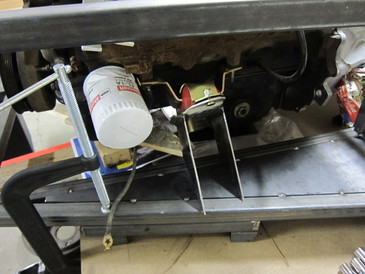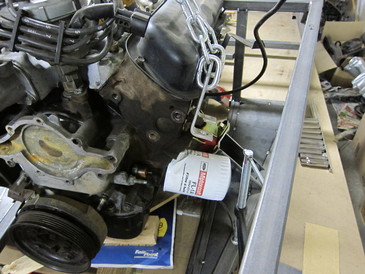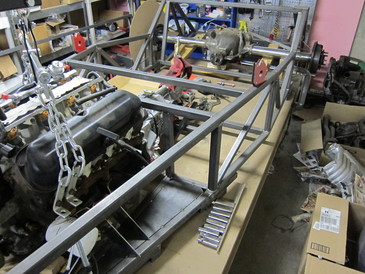 speedometer sender, plugs into T5 trans, 23 tooth gear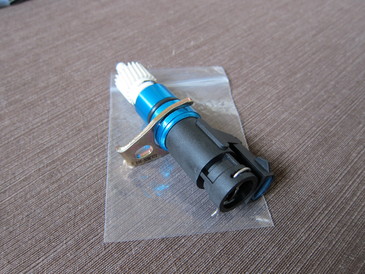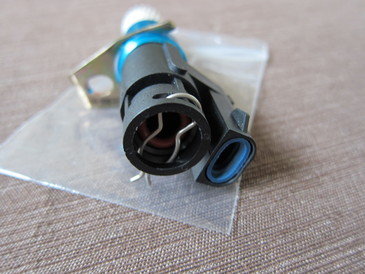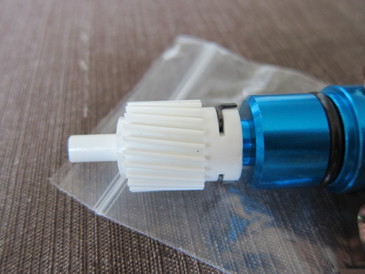 started figuring out driveshaft length, received
TTL nose
(with +4 insert) and
steamroller fenders
(not shown) from Jack at
KineticVehicles
, continued work on rear end brackets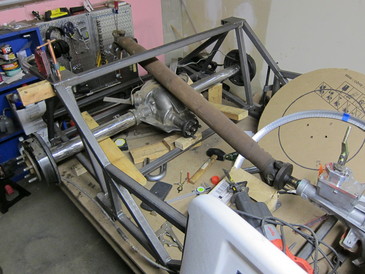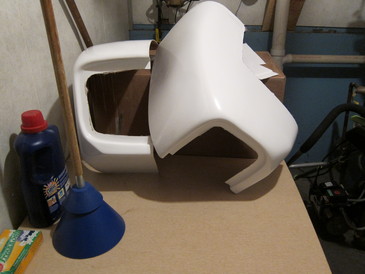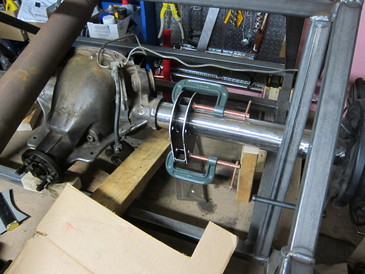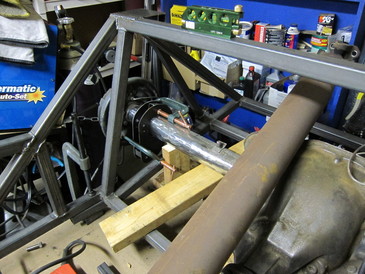 May 2013: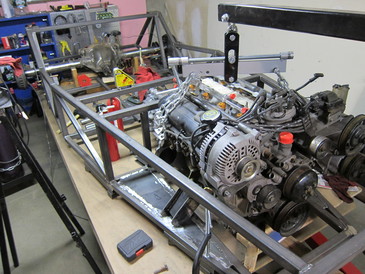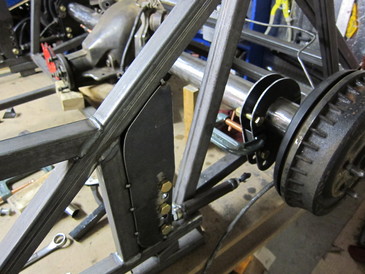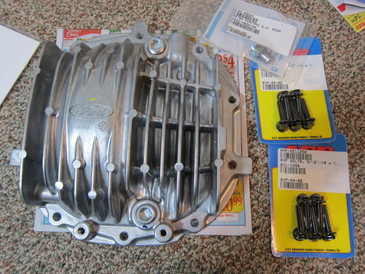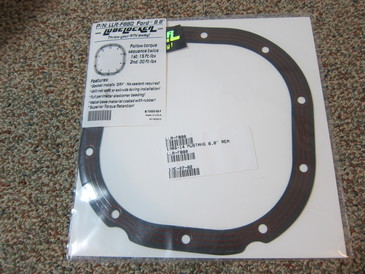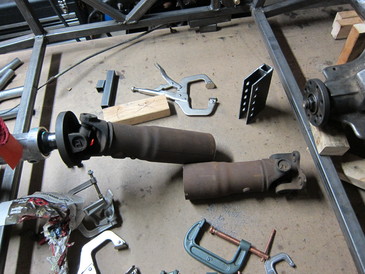 June 2013:
summertime, temp/chopped driveshaft installed, continued center tunnel. IIRC,engine and transmission are offset 5/8" to the passenger side to compensate for pinion offset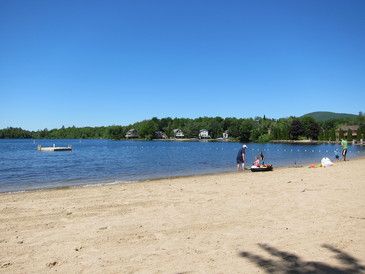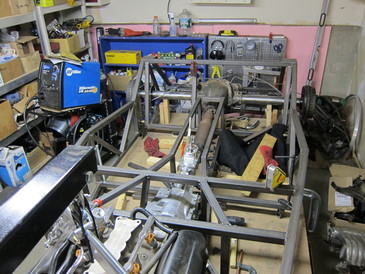 July 2013:
figuring out rear end top link. I had originally planned to have a 4-link with panhard rod, but I read about binding issues and was forced to redesign.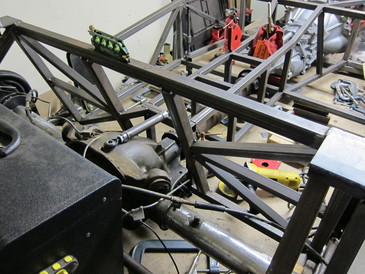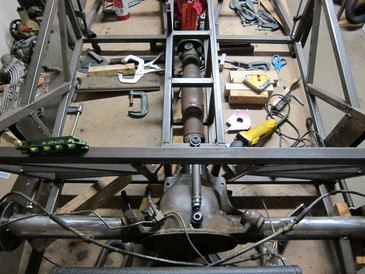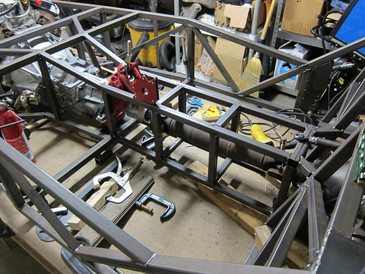 Saw this dune buggy one night - motivational. And included an artsy shot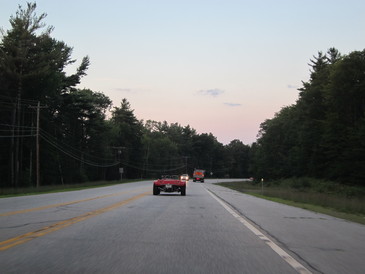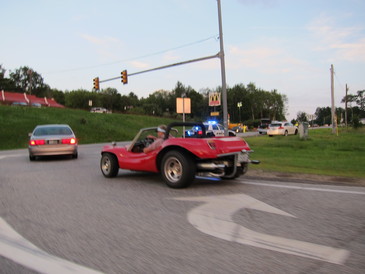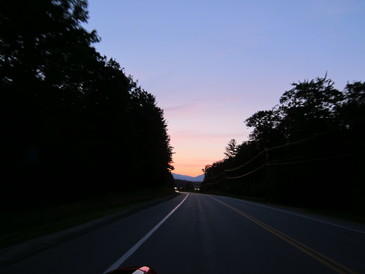 Started center tunnel diagonals. I want to make sure the driveshaft will never be able to reach the occupants.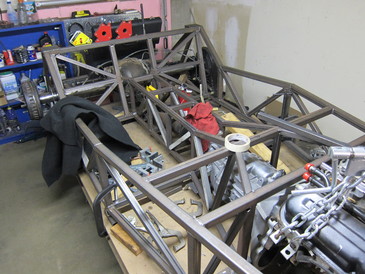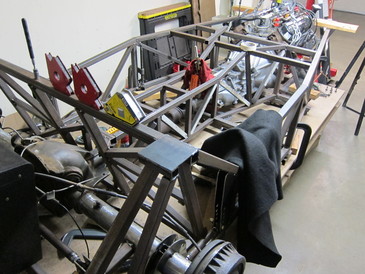 August 2013:
continuing on the rearend top link bracket. I had read on a forum that 8.8 diff housings are cast steel... but they are actually cast iron. I also tacked the lower link brackets onto the axle tubes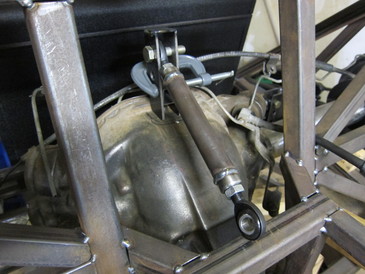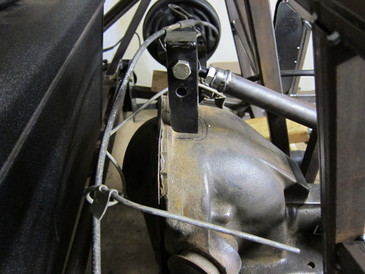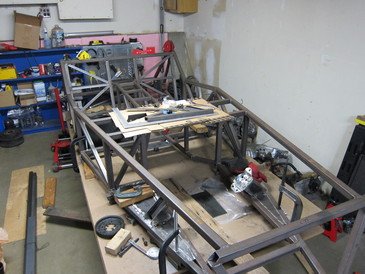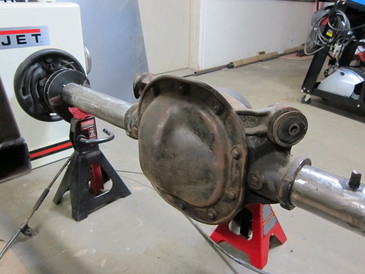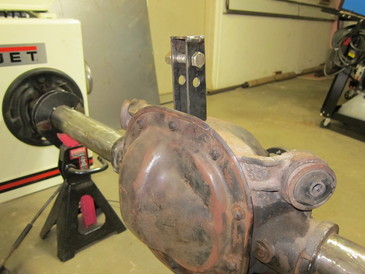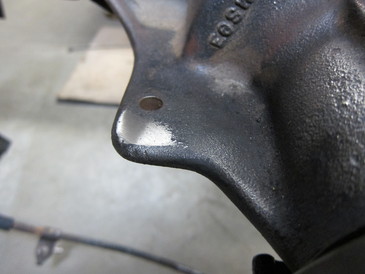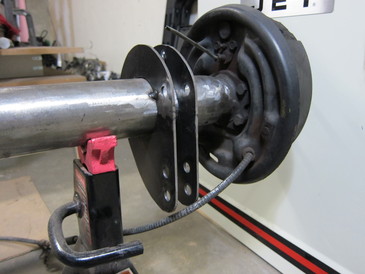 Saw this Lotus 7 when wifey and I drove up to talk to guy about welding a bracket onto the differential housing. He had a Lotus 7 in for some work. Pictures never give the same impression as seeing the car in person. In person, the car looked like a 'normal' car, just built on a smaller scale. The overall shape looks balanced, and I like the look of the clamshell fenders more seeing them in person.
The car didn't seem too much smaller than how I imagine a finished locost to be. We each had a chance to sit in the car, and it felt very normal to me: snug but not at all cramped. The seat was comfortable, probably OK for longer drives, reminded me of the seats in a MG Midget.
Ones legs stick out almost straight to the pedals, and the steering wheel felt close (and large). I believe I would like this driving position more than the one in my MR2 Spyder (which is pretty much the opposite). I test drove an Elise years ago, and it had a similar driving position as the Lotus 7: sitting 'in' the car rather than 'on' it. Hard to explain
The dashboard isn't vinyl over metal as I had guessed from pictures, but rather some kind of textured paint. I'd like a leather-over-metal dashboard on my build. I'd also like to copy the classic gauges and toggle switches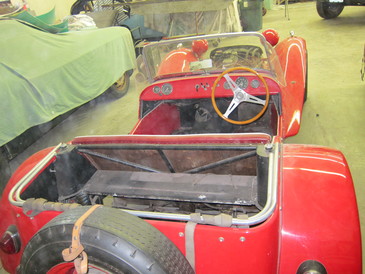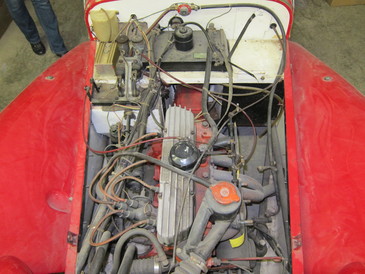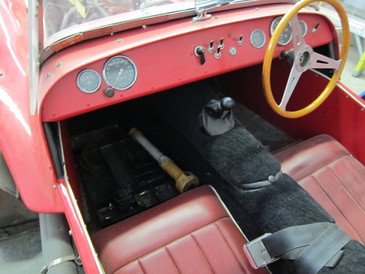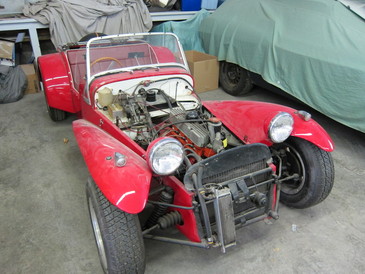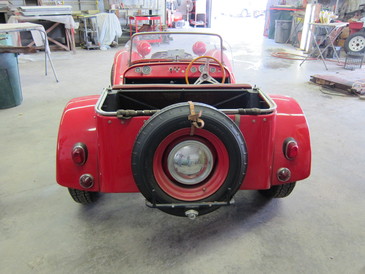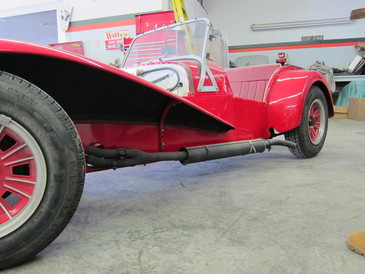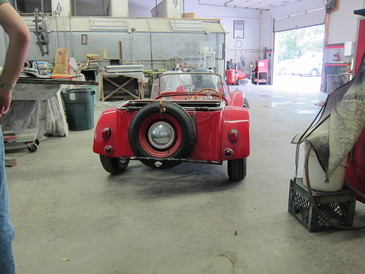 September 2013:
Miata seats I had bought on eBay don't fit with the wider center tunnel, even after removing the reclining mechanism. They are also from a smoker's car. I aired them out quite a bit, but they still have a slight odor. I'll use Kirkey seats instead of these. If anyone would like to come pick them up for very cheap, I'd definitely like to free up the space they're taking up.
Also, continued work on the rearend top link bracket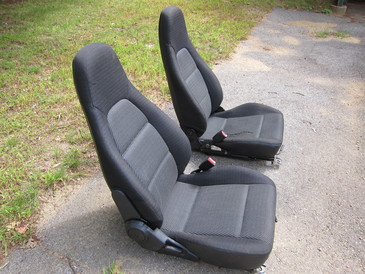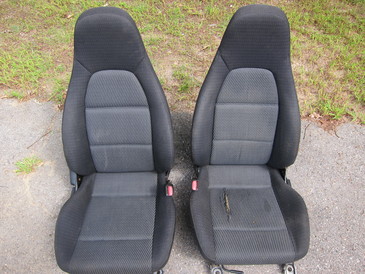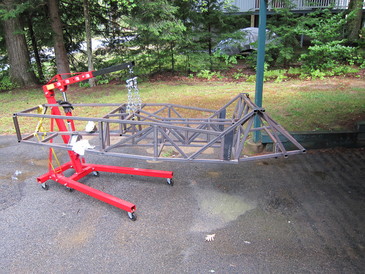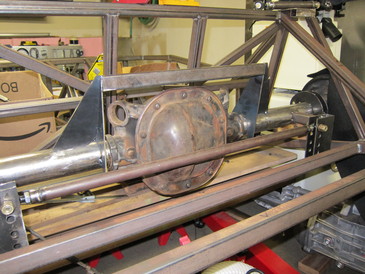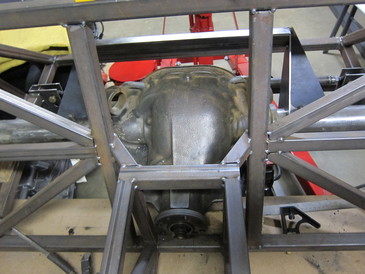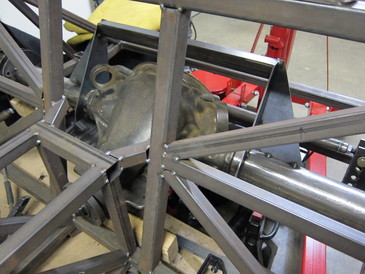 Started replacing the engine accessories with Fox parts. Had to replace the timing chain cover so I could use the Fox water pump. Due to the Mustang body design change in 94?, the SN95 accessories are moved back and to the sides of the engine. The Fox accessories clear the frame much better.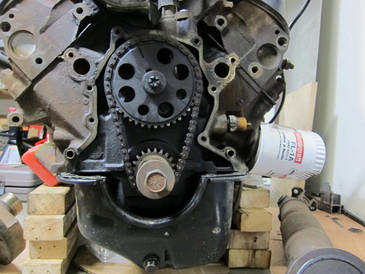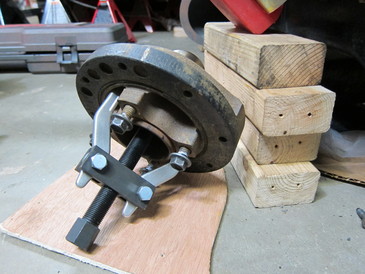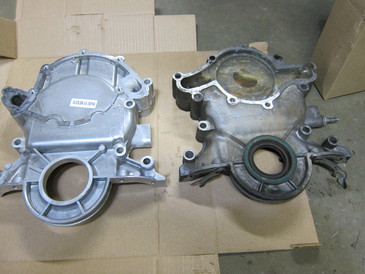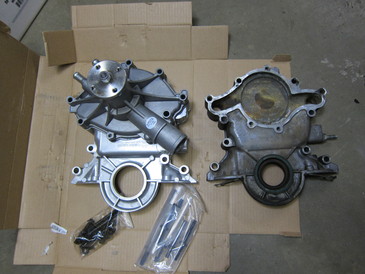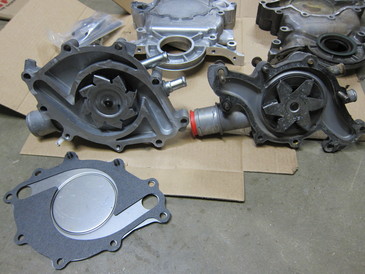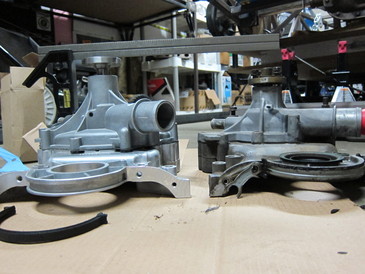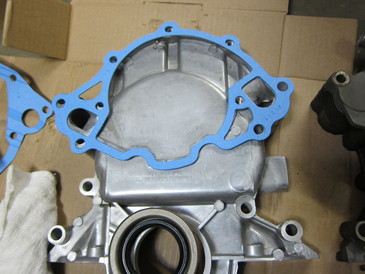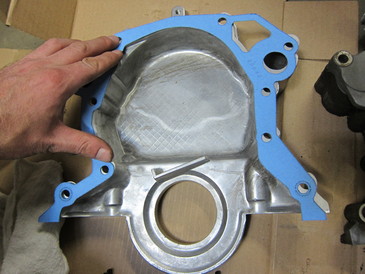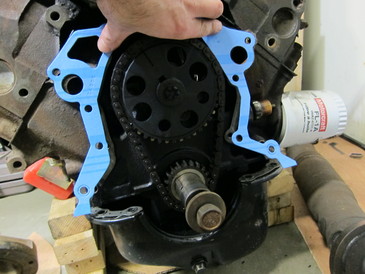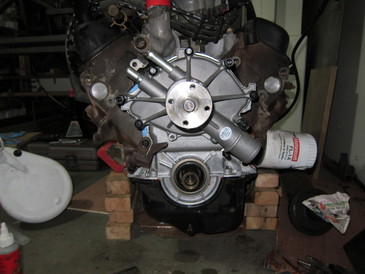 October 2013:
received Mustang II knuckles (2" drop), 11" rotors, GM calipers (I think). Also, I'll be using Moog K772 upper ball joints for the upper and lower ball joints on my build.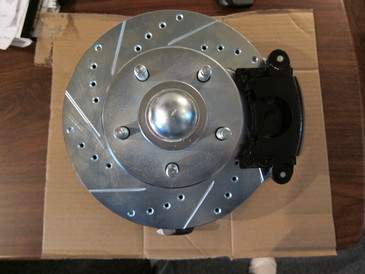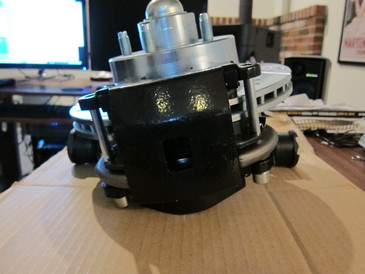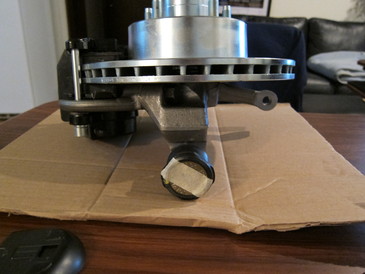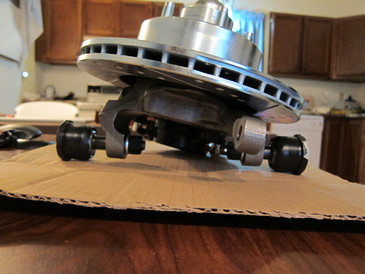 Will have to use high offset wheels to get the scrub radius down to less than 1 inch. I had wanted some plain gray steel rally wheels, but most of those are zero offset. I did have some trouble finding high offset, lightweight 15" wheels with the 5x4.5" bolt pattern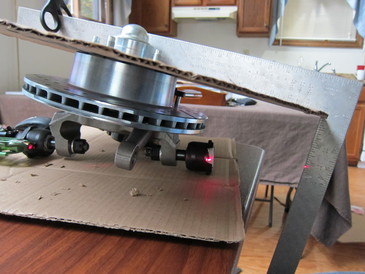 More work on the bracket attaching the rear top link. Panhard rod and brackets almost done. Engine accessories brackets mostly done, except for needing to adjust fore/aft position on the alternator. Seems like the Foxes had V-belts rather than 6-rib belts, so I had to fudge the alternator bracket spacers to get it lined up. The A/C compressor is rebuilt; it seems that there aren't any more new ones in this style (surprising).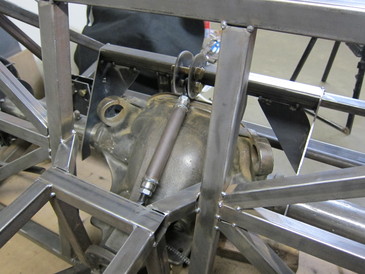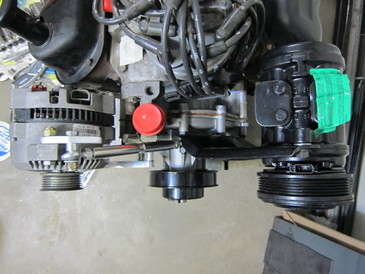 15" Sport Edition F5 wheels (plus the spare). Yokohama S.Drive tires 205/55r15. Outer diameter: 23.88"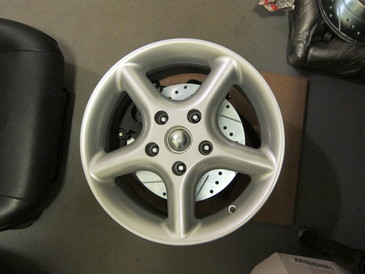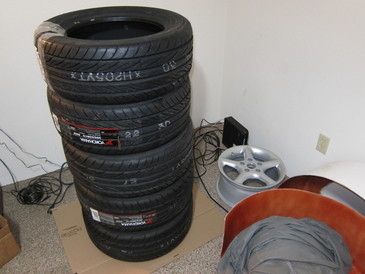 November 2013:
"Eibach Pro Spacer" wheel adapter spacers, Aluminum, 30mm Thick, 70.50mm Center Bore, 5 x 114.3mm. Used hubcentric rings underneath: inner diam 63.4mm , outer diam 70.4mm. The 45mm (?) offset wheels need spacers to clear the frame in the rear.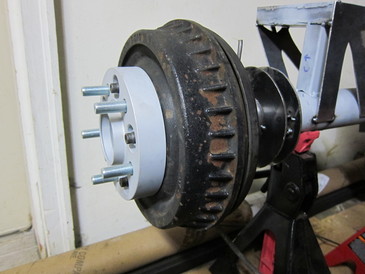 Removed most of the surface rust from the frame, did some grinding and welding. Redid some tubes in the driver's footwell. Cut some tubes and added new ones to make more room around the bellhousing.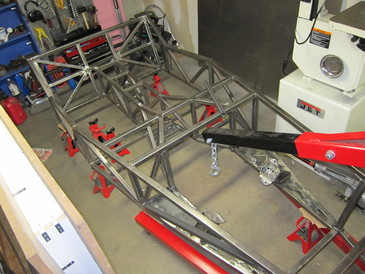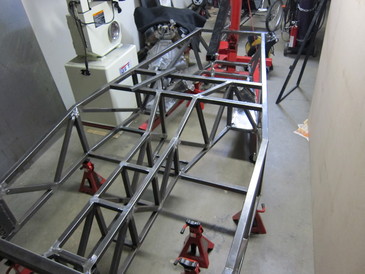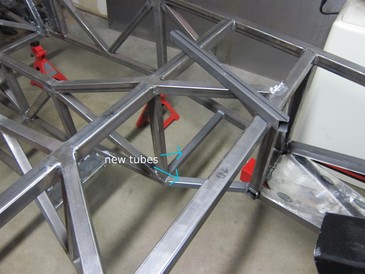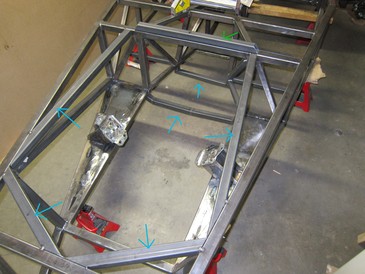 Easy and fun stuff: flywheel, starter, clutch. I got the lightest-duty clutch I could find. Flywheel is billet steel for better driveability.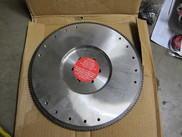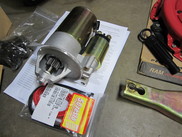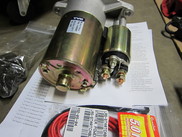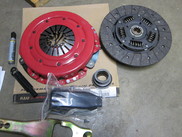 Painted the block plate, as it was already starting to rust. Installed flywheel and clutch. Still not sure if I'll use a hydraulic clutch slave or a cable