ok, after a while lurking on the forum, I feel it is finally time to start a build thread, so here it goes..
please forgive me for long introduction but I feel it might be beneficial for some to read my thought process as it might help others in the build.. so I will tend to go in depth with regards to all the decisions I am making during the build..
also, after toying with the idea of producing the beast commercially, I got scared of liability issues and decided to make the build Open source... so anything I do, will be available to everyone to use.. I will post all the data and files online after I feel satisfied with them.
While preparing for the build, I consumed lots of books, including a certain kimini book..
I have yet to find a "all in one book" but I have my favourites... and those are the Miliken book, and The Racing & High-Performance Tire: Using Tires to Tune for Grip & Balance
a brief history...
First, something about myself... by vocation I am an electrical engineer,... used to study digital electronics.... and did some work on a standalone ECU I constructed long time ago..
However, I found much more enjoyble life as a professional photographer and graphic designer, specialising in automotive clients... among others I work for the croatian edition of EVO magazine, as a photographer nad journalist, so I get behind some interesting machinery.. (At-om and BMW formula junior for example..
) my portfolio can be found here:
http://smg.photobucket.com/albums/v723/ ... portfolio/
after toying with various cars, at one point I decided to restore my Lancia Delta integrale 16V... at first I wanted just to fix the shell and seamweld it with some reenforcements, so I bought a MIG and made a dolly for he shell, with reinforcements so that it would keep the shell from twisting during the welding.... and also so that I could tip it on the side when working underneath...
But soon I started tinkering with the idea of making a cage... then I got introduced to solidworks and I made a rough sketch of what I wanted... one thing led to another and I was on my way to making a spaceframe chasis for the grale..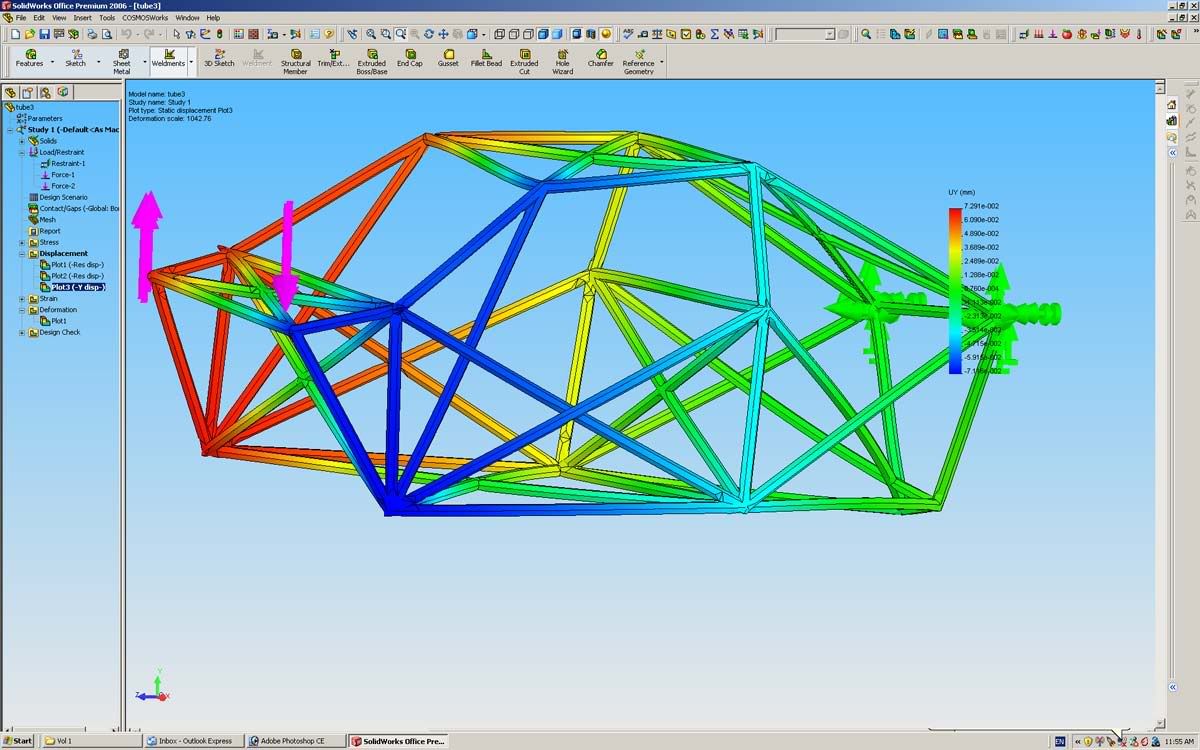 This project never got anywhere, mostly because I had no real space to do it in.... however I did buy some 175 kg of 4130 (25Crmo4) seamless tubing in various sizes.. more of that later...
Oh, and I also sold the shell and the rest of the car in pieces, and bought a mitsi EVO9... great car..
Right in the middle of all this, I met some university students who were working on our first FSAE car.... Since I had all these lovely books on the automotive engineering subject, I helped them a bit with the literature and a bit of my knowledge in the subject of ECU's and engine electronics.. I also had fun time watching all the work they did and some great (chain diff) and not so great (suspension..) solutions they came up with..
Their car worked, got them to the UK for the competition,... had enormous flex in the suspension, but the first time I saw it in the flesh and heard them go trough the gears, I was hooked...