good point.. I think I need more "seat" time to figure out if I like it or not..
Also, it has to do with relative position of the pedal and seat + I do not have much driving experience with floor mounted pedals..
However, the fact is that the pedal itself has too wide a profile.. Tillton pedal has much slimmer profile... so I might just fab a new pedal..
Clutch pedal will not fit anyhow (no room for cylinder) so I need to fab that one too..
thanks for the tip, steal away at will ..
In other developments, I worked on the diff design today... it is interesting how some cool solutions get thrown away because of non availability of some basic parts..
I made one design that needs a ball bearing with 110 mm inner diameter..
Then, I checked the price for such a part..
I wanted to use a torsen unit as a base of the diff, and convert it to chain drive in a more or less conventional manner..
At first I got a Lancia Delta integrale unit, complete... Took it out of the housing, got stub shafts also, ready for 100 mm lobro joints..
This is the unit on the right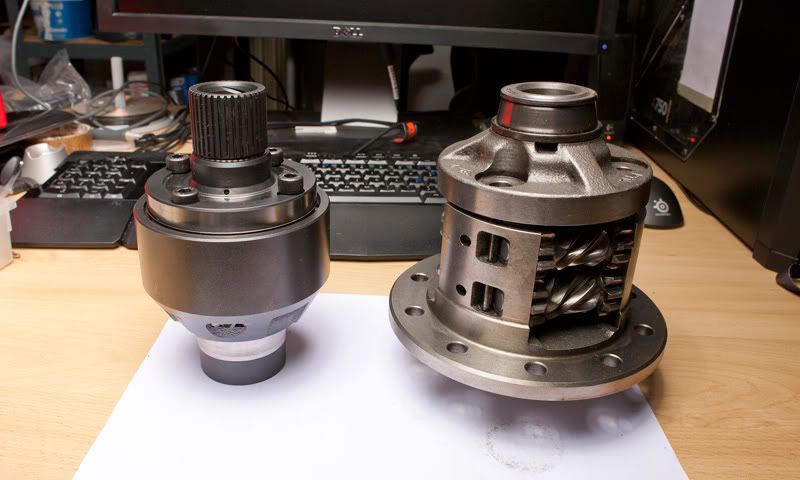 Then, I had that incident with the gearbox on my mitsubishi, and after buying the whole new drivetrain, I was left with one extra transferbox... that houses the front torsen diff... this is the unit on the left... a really nice small unit..
Plus point is that it is smaller and quite a bit lighter.. (a bout 3 kg for just the diff). Also, interesting for you guys in the US, it is widely available, as transfer boxes are not all that expensive... but a word of warning.. not all mitsubishi evos 8 came with front torsen diff... 8 MR and evo 9 do... for plain evo 8 it was not always the case...
Also, a plate diff is available in aftermarket, so If I really need it, it will be a simple swap later on..
Minus point is that I need to make stub shafts..
The two torsen diffs are of different design..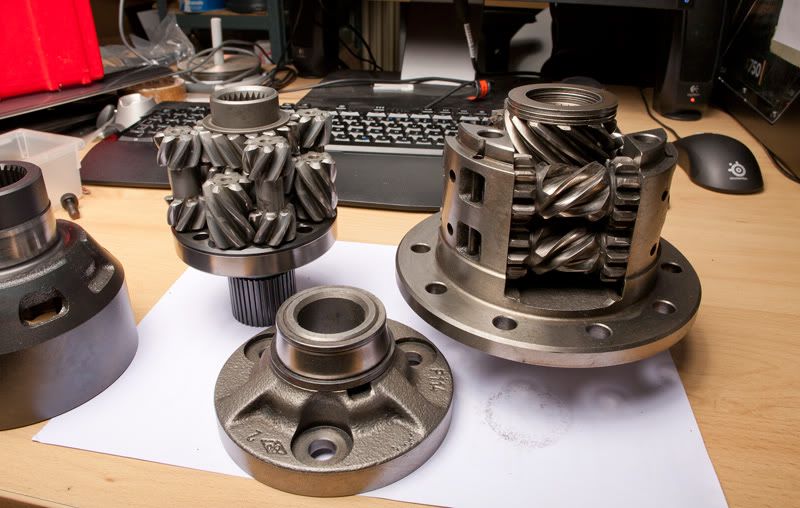 Lancia diff is a more conventional torsen, while mitsubishi unit is a design used by a Japanese manufacturer that uses a similar design on all the diffs they make, as I saw the same inner design on a honda S2000 unit I have...
I wrote down a couple of design goals initially..
1. NO torque steer
2. centrally mounted diff, equal length stub shafts, equal length driveshafts.. (to eliminate torque steer)
3. light design
4. diff housing has to be fixed, not rotating, so that I can have a vent for the diff, in order to eliminate the possibility of gear oil leak..
5. Minimal or no driveshaft length change during suspension travel
However... with engine output sprocket some 120 mm from centerline, the diff would be really wide (at least 300 mm)....
So, nr.2 went out in favour of nr.3. To get nr.1 right, I will play with driveshaft diameter...
I need to check the availability of various bearings and seals, then I'll finalize the design..