Doing what I do, means I get to play with some nice toys from time to time..
last week I spent a day with an At-om, complete with it's 2 litre honda supercharged engine.. It is also the only At-om in the world that I know of that has a NOS system.. did not switch that one ON... no need really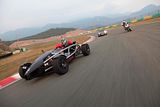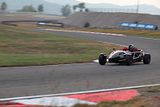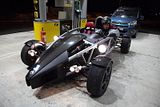 We got to play on the track, a high speed motorcycle one at that.. and did about 300 miles on the highway, due to the mechanical problems with the porsche turbo that forced it to use Atoms trailer to get home.. oh well ..
I noticed a couple of things..
1. At-om is really nicely balanced machine, very nice to drive and very nicely made..
2. It has the best control weight I have ever experienced and the best brake feel, EVER.. brakes are just soooo progressive..
3. it doesn't accelerate... it just goes trough the gears..
the throttle response is just explosive, yet very finely controlled.. however, even with all that power and 185 section rubber it doesn't have much traction problems.. I am starting to think about a supercharger kit for my gsxR 1000 engine. .
4. Engine is very elastic.. but, once you get to 160 - 180 km/h it just stops accelerating I remember following it on the track in my mitsubishi and it would gain 3 lengths after a corner almost instantly, but after 170 I'd start gaining back FAST..
5. Wind buffeting on the sides is very nicely controlled, but the space around the helmet is really BAD.. you can not look left or right after 130 km/h as it wants to rip your head off, and highway driving above 140 km/h is a chore..
all in all If you ever get a chance to try one... do it.. it is a blast..