this is the axle I bought ;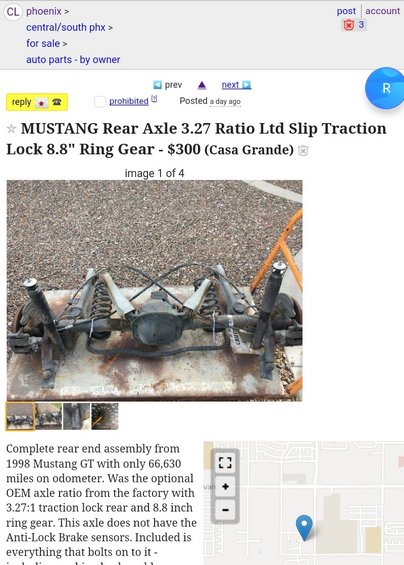 iirc the 96-98 axle housing is identical to the pre 96 axle, ford just changed the drive axle shape to make room for the ABS toner ring,
what resulted in a 1.5" wider track overall.
I think in 99 or 2000 (sn-95 generation ?) the drive axles got wider by another 1.5" to fit the wider body and compensate for more backspaced wheels
but according to some mustang forums the basic axle housing was still the same.
was reading that pre 96 (4 lug) mustang guys like to switch to Ranger axles as a cheap 5lug conversion (same track) ... so in theory the narrower 5 lug Ranger axles should fit the 96 and on mustang 8.8 as well (but you may need to do some more research on that)
i run a solid forged axle beam (basic `30 ford hotrod axle) that is available in 46 or 48" kingpin distance ... the 48" axle ended up very close to the 98 8.8 track so I'm not going to bother with narrowing it down with Ranger axles
(I'm also going to run 16x6.5" rims with a modern -42mm offset so I'm not going to be overly wide for my only 88" wb)