slow progress.... with my own business, two kids and a wife (who doesn't know about the build
) I get to work very little..
made a simple jig from steel, to hold the upper frame in it's exact position so that I can fine tune the vertical tubes.. do not have a pic for some reason..
I had a specific problem.. I have lots of big joints with 3 or more tubes joining... and I wanted to have all of them welded togeather completely... meaning that I could not just stick a couple of tubes in a joint togeather and weld what I could see, but rather weld them one at a time... This is a problem when you have X braces and stuff as you can not really add tubes afterwards..
so here is how I did it...
First, I fitted the 4 vertical tubes.. just fine fitting so that all of them would fit. I marked a centre point on the upper and lower frames, both front and rear, so that I could track their relative positions and adjust the frame for potential wrappage..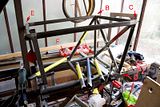 with the verticals in place I welded the joints A, B, C fully.. (ok, not 100% but 4 tacks and a full weld which goes under the DIAGONAL1 tube)
then I "opened" that frame up a bit (joint D is still oppen..) and inserted the DIAGONAL1 tube... and tacked the D joint...
The new vertical frame was wrapped a bit, so I used some straps to bend it back into position and tacked the DIAGONAL1...
Two smaller diagonals that form a X were inserted later, I had to make a straight cut at one end, to be able to push them in.. but I will weld those pieces back in and add an external piece to add strength...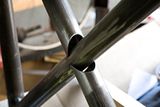 side triangles were done in a similar fashion..
First, I put in the rear part of the diagonals, and welded in the F and G joints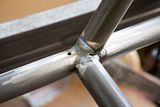 then I added the front vertical pieces, and welded the upper E joints fully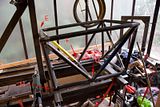 the H joints were left unwelded, so I simply lifted the front upper frame a bit (not easy at all) and inserted the front diagonals.. and welded the H joints..
First measurements show very little wrapage. Next on the list is side pods, and rear triangles that will hold the engine...