I got some more work done on the car. (well quite a bit, but More on that later).
I got the steering system mocked up. I'm using the stock MG rack, and the Stock MG steering column. This required me to hack into the chassis above the upper rear suspension node, but It had to be done. The stock MG column is a double collapsing unit, and has no u-joints in it. It took me a while but I finally got it all figured out how I can get the steering wheel in a good spot (almost exactly where it was stock) and get the rack located with minimal bumpsteer. Running the straight steering shaft required me to move my shocks because the rack needed to become High mount, but that made the stock MG rack width work better with the suspension so I didn't have to narrow it (I have ~ .25" of bumpsteer over the full suspension travel). I ended up redesigning the bellcranks to turn the shocks inline with the centerline of the car similar to on a At-om (more on these in the next post). Out at the upright, I originally intended to use the stock MG steering arms. This proved unsuccessful as they would have had to cover up the brake caliper bolts, so I decided to just weld on two flanges on the upright adapter and make my own steering arms. I'm going to add a flange to the back of the upright mount that will get bolted on with the caliper for a little extra rigidity. The pictures only show the top mount. I had to make it so high so it would miss the upright mount bolt. After a lot of messing around, I'm fairly happy with the result.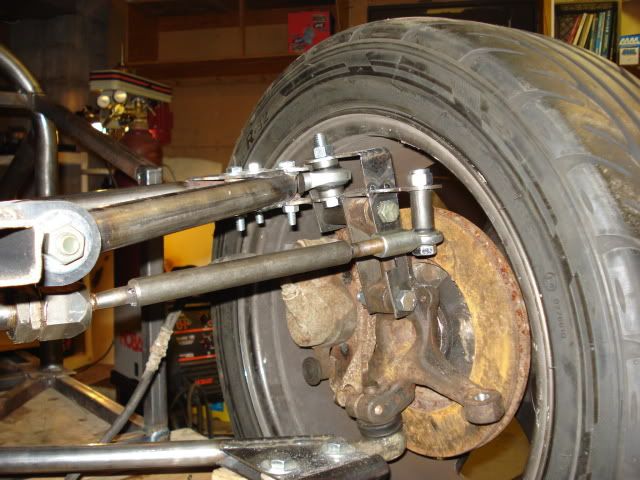 Designing new arms also allowed me to quicken the rack up. It now is ~2.5 turns lock to lock, but my lock is 40 degrees of turning, so the steering effort might be a little high. If it is, I know how to make longer steering arms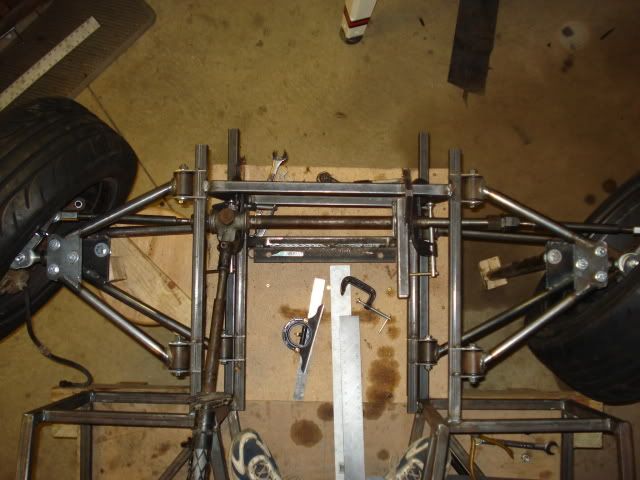 I estimate ackerman to be ~3 feet behind the rear axle. I did this because Carrol smith recomends running less than true ackerman due to the rear wheel slip angle. He also however says you will push the car around a lot so it's not worth running too much less than 100%. I took this advice and promptly decided eyeballing the ackerman would probably be therefore ok.
I also finished up the bellcranks. You may of noticed the slots that they had when I showed the flat sides. The purpose of the slots was to allow the pushrod leverage to be changed allowing me to fine tune my wheel rates. Adjustment front and rear should be from ~2hz-~3.2hz. It's quite stiff, but I wanted low ground clearance so I can't tollerate more than ~3" of total suspension travel. You can see in the second picture how the adjustment mechanism works. You simply loosen the pushrod bolt, and tighten or loosen the 3/8" bolt. The adjuster bracket is made from 3" of 1x.125 stip, welded together with a 1/2 x .060 wall 1" long piece of tube on the side. I tapped some 3" long 3/8" bolts to have ~1.05" of shank so I could bottom a nylock nut against the shank and give a solid 2" of thread. There is a piece of .188 plate across the bellcrank faces that has a weldnut attached to it that the adjustment mechanism threads too. To finish off the adjuster small spacers of 3/4 x .120 wall 4130 tube are welded on to give the clamping surface for the rod end. The bellcranks ride on a piece of 1" OD solid rod drilled to .75" to accept .75 OD x .5 ID x .75 long flanged brass bushings, riding on a 2" or 1.5" long shoulder bolt. Also of note is you can see the only part I somewhat have farmed out on the whole car. The Hex ended threaded bungs where milled by a friend at work to have a hex on the end. I tapped and turned down the raw part, and created a plate that they all bolted to, and he mounted them in a CNC mill and milled the hex. I was going to do it with a hacksaw... .. But even I have limits.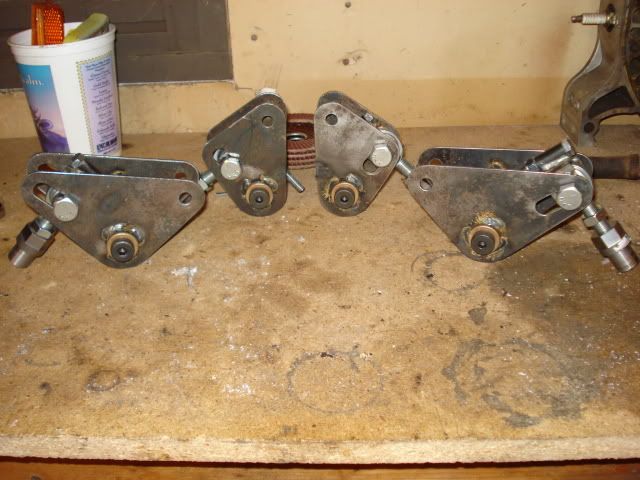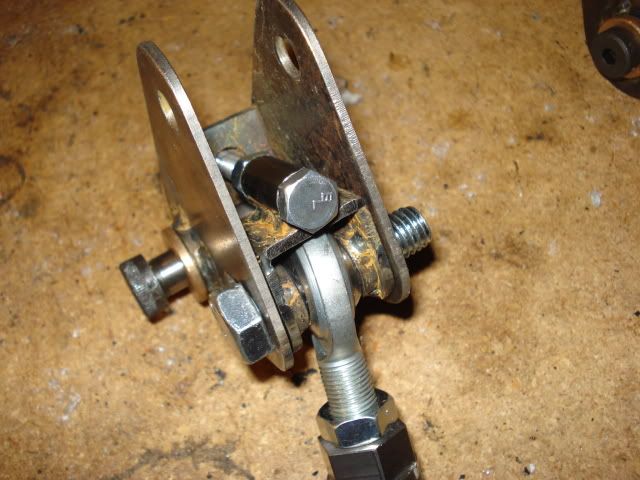 Why am I going into such rediculous detail on the bellcranks... Because finishing them took 6 FRICKEN HOURS. It seemed like it should be just a quick task, only take a couple of hours, but there is a lot of small fabrication in each one, so I'm proud of them.. Lets hope they work.
As a total aside I attempted to make a threaded pushrod bung without a lathe, as I thought it would be an interesting challenge. It's actually fairly easy. If you mount a 1" holesaw in a drill press and weld a piece of 1" OD solid rod to a plate, clamp it securely centered on the bit, and go to town it leaves a roughly .75 OD shank, and a nice centered hole to drill out for tapping. So there you go.. No need to spend $5 each.. just make them yourself with no lathe.
Thanks,
Daniel