Ahh life.. Sometimes it just gets in the way. I've had a couple of personal issues and a kitchen Re-model come up in the past 2 months, but I've been trying to work some time in the garage into there.
As I said last time I got the front chassis side shock mounts done. They are shown here. What I did was make a tapped bung that I welded on to the chassis at a strange angle, and then have a Shear plate that the bolt passes through and sandwiches the Shock. This way I have true-double shear mounting in low profile mount, which would be dificult if I tried to use a nut and bolt. Also, the Bellcrank Wings are now re-inforced. I personally think this shock mounting would look intense on a Locost, and provide nice headlight mounting.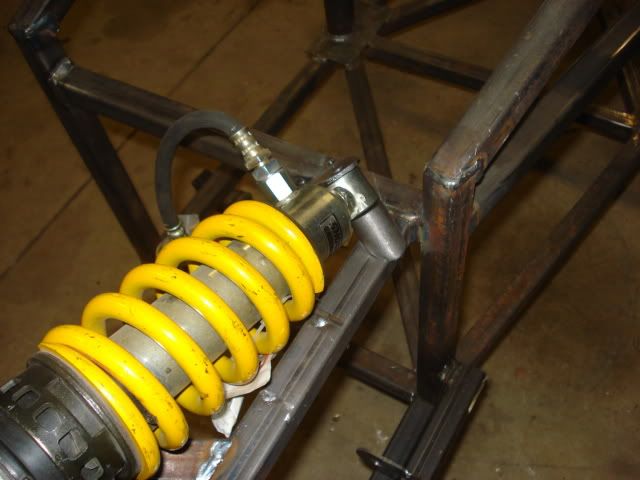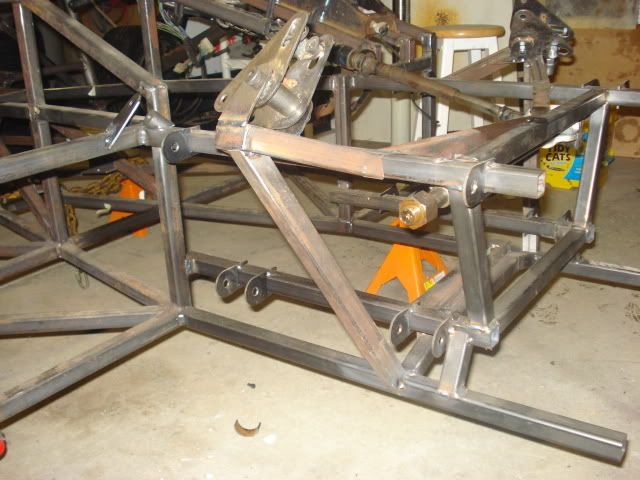 Spinning around You can see my steering rack mounts. I solid mounted the rack, and utilized some hacked up stock MG mounts. I was going to make the rack removable/height adjustable, however I have decent bump steer as is, and I have about 1" of vertical adjustment at the upright. Also, since I am running the Stock MG steering shaft I would have a hard time moiving the rack vertically with a straight steering shaft.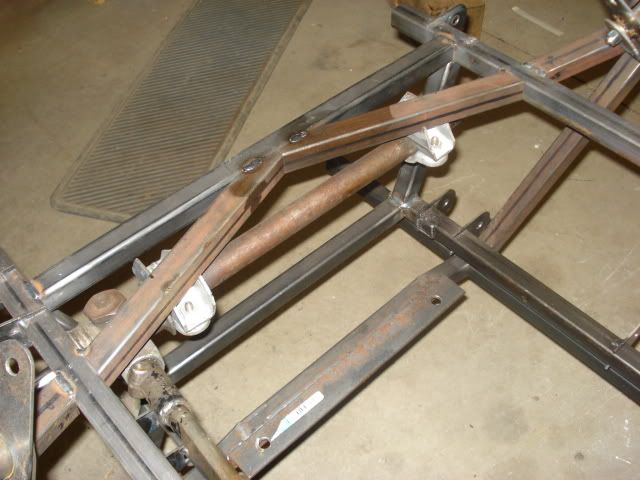 Completing the new-front end tour, I've began working out the mounting of the Pedals/steering Shaft. The MG uses a nice compact reversed M/C setup and the brack M/C bore is 7/8 which should work pretty good with the stock Rx-7 brakes. If it doesn't this area of the car will be easy to re-design to allow for instalation of a Willwood Pedal Assembly.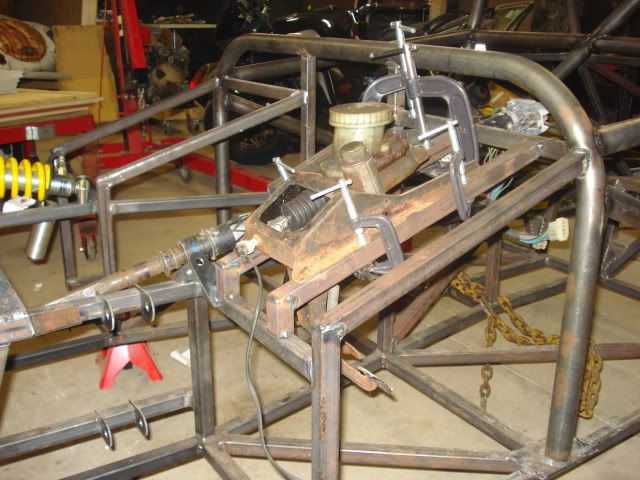 Moving to the Rear I've started re-inforcing the rear suspension pickups, and developed a plan for the belcrank/shock mounts in the rear. On the Reare suspension area, I've used a short section of angle cut tubeing as a C-shaped filler for the narrow angle side of the tubes. This way I get good solid weld around this area, and it allows a nice strong flat portion to attach the bellcrank flanges to.
And my last bit of progress is the fact that I'm to the point where I am no longer using the Build table. The chassis is now on jackstands and that's exciting. It's still a ways from a roller, but the Front suspension is done, and the rear is close, so I might celebrate roller day soonish.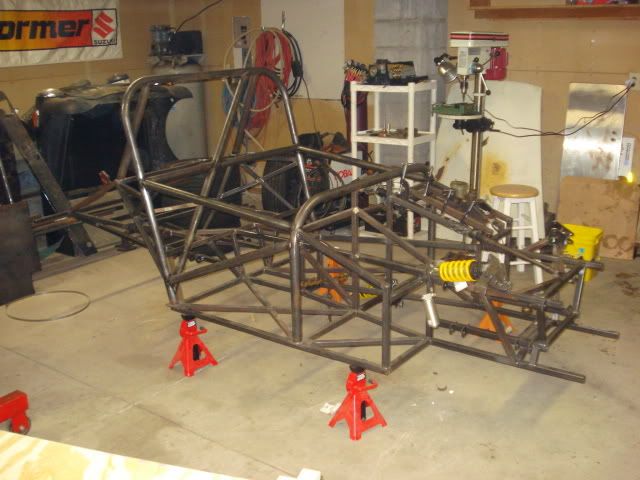 Also I've got a picture of the new project. It's a very rough shell but the price was right $1. I'm not sure what it's fate will be, but I'm happy to have a true microcar that I am not at all concerned with butchering.
Thanks for hanging in there everyone during my abscence. I hopefully will start updating and making progress with more regularity.
Daniel